Jacki Murano
Owner/Principal Broker/Realtor
Resort and Second Home Property Specialist
802-380-3714 (c)
802-464-2585 (o)
jacki@sovtrealtygroup.com
Helping her clients successfully navigate the area market for 16 years, Jacki works with both buyers and sellers in all of Southern Vermont. Having spent the last 13 years specializing in Resort and Second Home Property Sales in the Mount Snow Resort, Hermitage Club and surrounding towns she earned the National Association of Realtors Resort and Second Home Property Specialist certification in 2018. A RSPS is real estate practitioner who facilitates the buying, selling, or management of properties for investment, development, retirement, or second homes in a resort, recreational, and/or vacation destination.
Jacki is a Vermont native and has in depth knowledge of all of Southern Vermont. Growing up in Townshend and then moving to the Wilmington/Mount Snow area after college she has the local expertise to help you find that perfect location to suits your needs and desired Vermont lifestyle. Looking to be near swimming? Skiing? Public transportation? School choice town? Restaurants and shopping important? Maybe you want to be way off the beaten path but with high speed internet. She knows just the spot and can help guide you with local expertise.
In her free time,  Jacki enjoys spending time with her husband, 3 sons, 2 dogs and 7 chickens! An avid outdoor family they enjoy the Vermont lifestyle afforded by living in such a special place. Gardening, snowmobiling, boating, sugaring, hiking, skiing, camping and exploring off the beaten path to find old historic spots in the woods are just some of their favorite activities.
Active in civic organizations and volunteering Jacki has been the chairperson of her local school board for 7 years. She is a member of the National Association of Realtor, Vermont Association of Realtors and the Southern Vermont Board of Realtors.
With great follow through, accessibility seven days a week, attention to detail and her personal touch, Jacki will make the buying or selling process an enjoyable and stress free experience. As said by one of her latest clients…..she offers a "high service, low pressure" approach that works! If you are looking for an experienced, full time agent with in depth local knowledge give Jacki a call.
Kelly Agrill0
Realtor/Senior Sales Associate
413-437-4173 (c)
802-464-2585 (o)
kelly@sovtrealtygroup.com
Kelly first moved to the Mad River Valley in Vermont from Martha's Vineyard  in 1998 with the goal of learning to ski. Since that time Kelly has called many ski resort areas home including the Wasatch Mountains in Utah where she lived ( and skied!) for 5 years in Alta before settling in the Mount Snow region in 2006. In the summers Kelly owned and operated a successful gardening and landscape company.
While not on the slopes or in the garden, Kelly excelled in her 10 year career in Hotel Management and Resort Owners Services before transitioning into resort property and real estate sales in 2016. With her diverse background in resort property management, sales and service, Kelly offers her clients a strong foundation for all real estate transactions.  With that and her commitment to listen, communicate and negotiate expertly on behalf of her clients, Kelly is a Realtor who can help her clients achieve their real estate goals successfully.
In her free time, Kelly enjoys spending time with her husband raising their son, chickens, rabbits and bees.
If you are looking for an agent with a diverse set of skills, who will truly listen to your needs and help you achieve your goals in real estate, call Kelly today to get started.
Melissa Ellis
Realtor/Sales Associate
Rentals Only Owner
802-345-1633 (c)
802-464-2585 (o)
melissa@sovtrealtygroup.com
A born and raised Vermonter, Melissa has traveled the world over but always enjoy returning to the beauty of Vermont.
She and her husband and own a small horse farm in Newfane, Vermont. Together they enjoy skiing, snowshoeing, kayaking, SUP, mountain biking, hiking, fishing and spending time with my beautiful Morgan Horses and their two Jack Russell Terriers. Fun fact….did you know that the Morgan Horse is the Vermont state Animal?
Melissa has been in the vacation rental business since 1992 and is the Owner and Operator of our Sister Company, Rentals Only which specializes in Mount Snow Resort vacation rentals. Melissa enjoys helping travelers find their vacation home away from home whether it's for a season, a week or a lifetime.
If you are looking for an agent with decades of experience in the resort area market, a can do attitude and a proven track record in customer service, call Melissa today!
Megan Quinn
Realtor/Sales Associate/Rental Manager
802-430-4552 (c)
802-464-2585 (o)
megan@sovtrealtygroup.com
Megan has recently added real estate sales to her skill set but brings nearly 10 years experience from the vacation rental  industry. Her decade of experience in the resort and vacation rental business at Mount Snow make her a valuable resource for anyone looking to buy an investment or rental property in the area.
Born a New Jerseyan and raised a Vermonter she began skiing when she was three years old and has been drawn to the mountains ever since. Megan enjoys living in our valley and soaking up every spectacular season we have to offer. As much as she loves a good snowy and powder filled winter, summer is by far her favorite season. You can find her on the lake in the kayak, fishing, boating, or splashing around with her Black Lab, Fen. Megan looks forward to sharing her knowledge of the valley with buyers and sellers!
If you are looking for a knowledgeable guide to help you through the process of purchasing or selling a vacation, rental or investment property in the Mount Snow region, Megan is the agent if you!
Anna Giorgio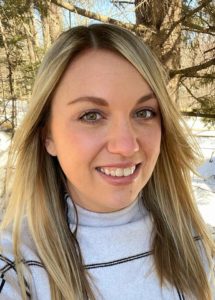 Realtor/Sales Associate
401-714-2851 (c)
802-464-2585 (o)
anna@sovtrealtygroup.com
Anna has an impressive background in sales, marketing and hospitality including a Bachelors of Science in Hospitality Management from Johnson and Wales, 11 years of resort sales experience and positions that include Social Sales Manager at Mount Snow Resort and Stratton Mountain Resorts Event Coordinator, respectively.
On a more personal note, Anna is a foodie! There isn't a restaurant in Southern Vermont she hasn't tried. When she isn't out on the town she enjoys cooking at home for her husband and two sons, going to the lake, camping, hiking, spending time with her 3 dogs and enjoying all the area has to offer.
In her "free time" Anna is working towards the completion of a professional certification in Residential Interior Design.
If you are looking for an energetic agent with great attention to detail, excellent communication skills and impeccable follow through, give Anna a call today!
Kim Meeker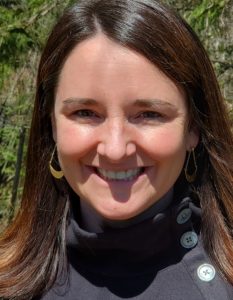 Realtor/Sales Associate
919-622-1508 (c)
802-464-2585 (o)
kim@sovtrealtygroup.com
Kim graduated summa cum laude from St. Bonaventure University in 2001, earning a bachelor's degree in Psychology. She was also a member of St. Bonaventure's NCAA Div. I women's tennis team!
In 2004, she headed north to give sales in the ski industry a try and began her career in group sales at Mount Snow. She quickly transitioned into the role of Group Sales Manager and went on to enjoy 15 successful years wearing the many hats of a sales manager at both Mount Snow and Sunday River, Maine.
Kim's move to Vermont also introduced her to her husband, Dave,  Together they purchased a house in Wardsboro where they live with their two children, Olivia and Julia. An active family they enjoy exploring the mountains, skiing , playing tennis and swimming together.
Kim takes pride in working hard and doing a great job, whatever that task may be. She has a drive to succeed and truly enjoys working with her clients to help them achieve their goals while she exceeds their expectations. With nearly 20 years of management level experience in customer-service and sales, an unparalleled drive to get the job done and do it well, Kim is the agent for Buyers and Sellers looking for professional sales qualities to help them through the real estate process.